December 16th, 2012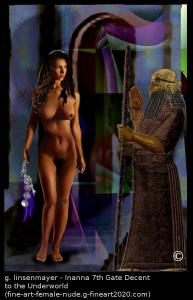 This is an original digital image, Jean, as Inanna, in her decent to the underworld, accomplished in a traditional-modern style. It is based on my own original earlier studies, jean, paintings and drawings. "Why does Inanna go down into Hell?
Neither the Sumerian nor the Akkadian versions of Inanna's Descent to the Underworld tells us why she goes there." (http://ancientworlds.net/... Inanna/Ishtar's Descent into the Underworld) ...
December 1st, 2012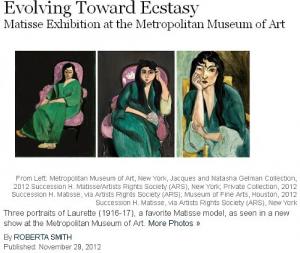 My art interests have always been what I call "traditional-modern" (what do I mean by that? go here...). So today what do I see while looking at online news but a new show of Matisse,
"Evolving Toward Ecstasy, Matisse Exhibition at the Metropolitan Museum of Art". Matisse is one of the true originators of the basic idea of traditional-modern "motif"; the directing of art expression toward what actual human beings, persons, find to be real life.